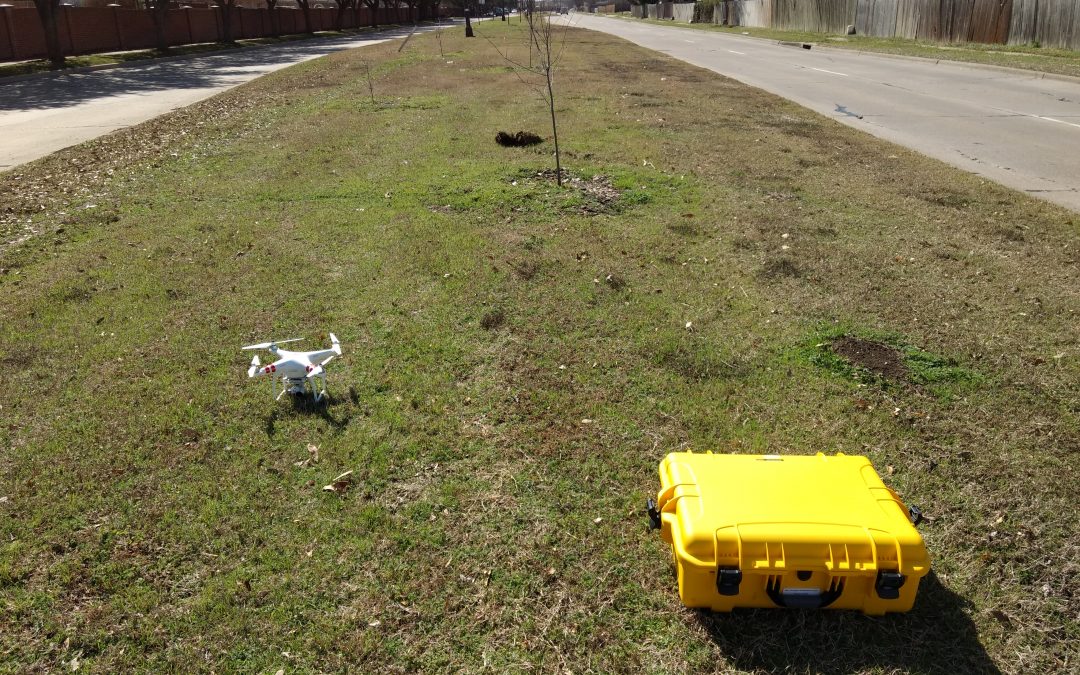 "The unique bird's eye perspective and the ability to see fine details high up in the tree are impressive. However, there are serious limitations both technological and legal." – Ellyn Shea, Arborist and Consultant
By Jeremy Priest
The use of Unmanned Aerial Vehicles (UAVs), or "drones", has grown rapidly in popularity over the past few years such that many larger organizations utilize them for various tasks, the most common of which is marketing and photography. Companies are able to create astonishing views that were previously very limited. Helicopters and planes are currently used to provide services from high quality aerial imagery to advanced LiDAR for use in industries such as commercial forestry, but never has it been possible to see bird's eye level views so easily and at such close range. Safely obtaining that close range through lightweight copter-style drones, which are typically under the small Unmanned Aerial Vehicle (sUAV) classification by the Federal Aviation Administration, has begun to allow imagery to be used for more detail focused practices such as tree inspection and assessment.
However, UAVs are not the ultimate technological tool that many believed them to be. Amazon and other companies are researching the use of drones for deliveries, but an article in Fortune in 2017 noted that commercial deliveries were a long way off and even by 2020 the use of commercial drones for that purpose would be less than 1%. An important step to implementing drone use in various industries is understanding FAA regulations regarding Unmanned Aerial Systems (the term UAS represents the entire system needed to operate a UAV, which includes the controller and any other devices such as smart phone). These regulations are designed to keep everyone safe, from bystanders on the ground to other aircraft using the airspace, because there are real hazards posed by drones even though they are relatively small and commonly available. Organizations interested in utilizing drones should make themselves aware of these restrictions by visiting the FAA's website.
Use in Urban Forestry
Drones are capable of improving the efficiency of some forestry work when conducted for a specific purpose and with a specific plan; the articles at the bottom of the page detail a few specific cases. These are some of the possible applications for this technology by arborilogical professionals :
Tree Assessment: Drones are capable of photographing multiple trees at once and from a different perspectives than ground level assessments. Some drones can travel 35 mph or more which enables them to fly an entire city block taking photos of each tree in a matter of minutes. When it comes to using drones as an alternative to climbing trees the matter is often contested by arborists as even a very good camera on a drone cannot see and determine defects as well as a climber. Drones can however be used as a supplement or as a lower level assessment, such as determining if any trees have obvious and major defects such as dead branches. The information from such assessments can then be acted on and used to help with climber safety.
Inventory: The City of Arlington recently utilized a UAV to conduct inventory of urban trees. The drone used for this inventory had a GPS receiver, altitude sensor, camera gimbal, a camera capable of taking high resolution images, and a top speed near 30 mph. In this case multiple individual photographs of each tree were taken which were used to approximate basic tree data without the need to walk to each tree. The locations, genus or species level identification, height, and crown diameters were able to be approximated from drone data. Location of each tree was determined using the precise GPS coordinates in the attributes of each photo. The individual photo locations can be viewed on any computer; however, specialized software is required to rapidly display each photo as a map point. As the coordinates of the drone are stored in the attributes and not the object being photographed, it was necessary to take photos directly over the tree or apply a correction to the photo points in the software. The points representing each tree were then linked to the tree photo to enable quick analysis of the photo.

From each photo genus or species level data could be approximated, although in some cases it was necessary to field check the ID. Tree height can be approximated using the UAV's altitude sensor, although accuracy is lower than other methods of height estimation. The photo attributes store the altitude of the drone when the picture is taken, and the tracking software provided by the drone's mobile app also depicts UAV altitude, so by flying even with the top of the tree's canopy it is possible to approximate tree height. Crown diameter can be approximated using measurement tools in the mapping software.Overall, the drone was found to be most useful in determining tree locations and for providing individual tree photos for the inventory. Due to the high speed of the drone and the efficiency of entering data at a desktop computer afterwards, areas could be completed much faster compared to an individual walking to each tree and recording data on a field computer. For low level inventories that do not require trunk diameter the use of drones is suitable and cost effective; however, drones may be better utilized as a supplement for providing photographs and tree coordinates when additional, or higher accuracy, data must be collected at each tree.

Marketing: Drone footage is impressive and commonly found in promotional videos or material. This is no less true for the arboricultural profession and companies can easily apply the advantages of aerial photography when demonstrating tree removal or climbing abilities. There are a number of software packages that enable the application of drone footage to create videos or still images to catch the eye of consumers.
Aerial Imagery: Drones enable aerial imagery similar to what is viewed in Google Earth without the expense of purchasing aerial coverage datasets or relying on lower quality imagery that has been taken sometime in the past. Drones can provide insight into an area being targeted for large scale tree planting, for example, by providing accurate and up to date imagery of a specific area. Although free aerial imagery has dramatically improved in the past decade to enable detailed views of an area, it is still limited quality and there is little way to control the season being viewed in such aerial imagery. In some cases it is advantageous to have winter imagery with leaves off the tree, such as being able to view understory trees, sidewalks, or other features in the target area. In most forestry related uses, having leaves on during spring to summer provides the best depiction of the urban forest for such purposes as planning and development, or tree cover assessments.

Aerial imagery can be created by taking downward orientated photographs from a gimbal enabled drone. These images can then be displayed in ArcMap or Google Earth. For ease of use, it is best to follow a set pattern when taking photos and the camera should be aligned so that the axes run north-south and east-west. In ArcMap, the process involves importing the photos and using the Georeferencing Toolbar to locate control points in existing aerial imagery (i.e. a manhole cover or lightpole visible in both the drone photo and basemap aerial imagery could be used to align the new photo). The Auto-Assign Points feature in ArcMap can then be utilized to align other drone photos and create a mesh, so it is important to take photos with some overlap. To add photos to Google Earth, use the Image Overlay tool. Then right click the image layer and open the properties to drag the corners of the photo to match existing imagery. The process is simpler in Google Earth, but much more time consuming for multiple photos.
Although the author and the Cross Timbers Urban Forestry Council have made every effort to ensure that the information in this article is correct, the author and council do not assume and hereby disclaim any liability to any party for any loss, damage, or disruption caused by errors or omissions, whether such errors or omissions result from negligence, accident, or any other cause.