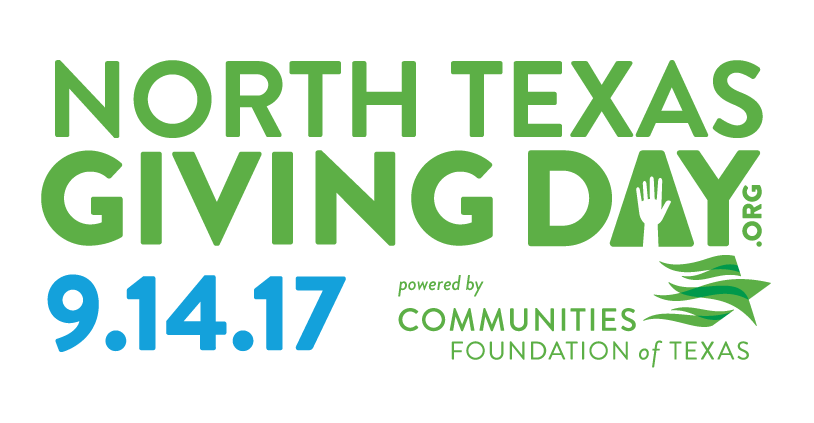 Cross Timbers Urban Forestry Council is proud to be a part of North Texas Giving Day.
North Texas Giving Day is an online giving event for people in North Texas to come together and raise as much money as possible for local nonprofits in the 16 county region around DFW. In just six years, North Texas Giving Day has pumped more than $156 million into the North Texas community. In 2016, more than 142,000 gifts totaling $37 million benefited 2,518 nonprofits.
From now until September 14, we want to spread news of this amazing event. We encourage everyone to brag about the great programs CTUFC provides our communities. We encourage all our members to donate and share our event information. If able to donate, know that a donation of $25 is able to receive additional funding. Here's the really exciting part: Every gift made through North Texas Giving Day.org on September 14th helps our chances of winning prizes given throughout the day ranging from $500 to $5,000!
Our logo is a strong young post oak sprouting from an acorn surrounded and nurtured by the Cross Timbers Urban Forestry Council.  It represents the great things that can grow from humble beginnings when given the proper support.  Your contribution goes a long way in supporting that growth.
Our current objectives are: * Continue providing up to date, science based information to tree care professionals at an affordable annual conference * Support volunteer education and outreach through the Citizen Forester program * Fund the Mayfest Tree giveaway and * Develop community tree planting projects through partnership with local organizations * Expand our capabilities by hiring our first employee; a part time Executive Director.
With past donations,
CTUFC.org
, has got a face lift allowing us to  continue to nurture urban forestry programs and an awareness of our natural resources.  The museum quality eco-history traveling exhibit, "The Cross Timbers a Natural Wonder", has spread even farther across communities, reaching visitors in schools, libraries and city halls.  The exhibit fosters an appreciation of the natural and cultural history of the Cross Timbers region.
CTUFC will once again be able to cultivate sound urban forestry practices by cohosting one of the least expensive yet highest quality workshops in the State, the North Central Texas Urban Forestry Workshop.  Local municipal foresters will grow stronger by attending workshops paid for by the Council.
College students of urban forestry at Stephen F. Austin State and Texas A&M will receive scholarships to diminish the burden of escalating education costs. All of this will be due to your support.  Your contribution will help us spread the roots of sound urban forestry throughout our 17 county region.  We appreciate your involvement and have hopes that you are able to glean all the benefits of a healthy urban forest for many years to come.  Thanks to your contribution, we can make it happen.